As we continue to kick off the new year, we find ourselves in some of the most challenging times in recent memory.
Aside from the challenges from the recent COVID surge, inventory levels continue to be very tight. "The automotive team at IHS Markit calculated that semiconductor supply won't catch up with industry demand until late 2022… [or even] into 2023." – IHS Markit, WSJ.
At the same time, consumer automotive loyalty is at the lowest levels ever recorded. In a Google Consumer Survey in June 2021, 339 auto intenders were asked, "When you are ready to buy, what would you do in case your preferred choice of model is not in stock?" 46% of shoppers said they would wait for it to be back in stock (meaning you should retain their consideration!). 53% of shoppers said they would buy another model from the same brand or competitor (!). Looking at the same data in Q4, almost 3/4th said they would buy a different model/brand. Even more interesting is that consumers are jumping between brands that we have never seen before. For example, someone in-market for a BMX X5, upon lack of availability, would now jump to a next-door Chevrolet dealership and buy a Chevrolet SUV – something we rarely saw before.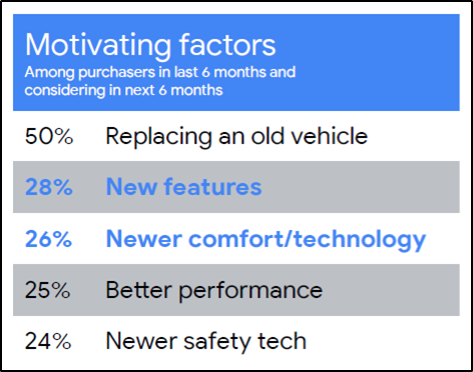 Looking at another data set, we see more and more consumers willing to wait out the industry shortage and pricing spikes (thinking that it will end very soon). For those who continue to be in-market (which is a shrinking majority), 50% reported their reason for replacing an old or failing vehicle. Another 54% reported looking for new features or technology. And finally, 26% indicated looking for better performance or efficiency (prompted by rising gas prices!) or newer safety technology. Data provided by a Google/Ipsos US Dealer Customer Study of 325 in-market shoppers.
And the last major consumer trend we're watching is the jump between segments and categories. From a recent Google/Greenberg survey of nearly 10,000 respondents – more than half of those in-market for a new car have considered a used car. Similarly, half of the luxury brand shoppers have considered a non-luxury brand. And lastly, half of the new car buyers had considered a segment other than the one they purchased.
Another confirmation of this consumer jumping trend is Google Search Data which shows a 79% YoY increase in "how to find the right car for me," along with a 46% YoY jump in "what type of car should I get quiz?"
How do we capitalize on these trends? For starters, you want to make sure that you are targeting audiences – and not just search terms. More importantly, you have to prioritize your audiences – remarketing those who have visited your site before. As consumers are waiting more and considering more brands/models, it's more important than ever to continue to be top-of-mind to your potential customers. That also means being present in search results, optimizing your Google My Business, and being as visible as possible while minimizing your spending (especially if your current inventory is low).
I'll leave you with one more golden nugget of data. A recent Google study conducted from May to June 2021 asked: along with inventory constraints and pricing challenges – what is the third biggest consumer pain point right now? Too much waiting and too many processes! 31% of new car buyers said, "The process takes too long," "they spent too much time waiting," or "the paperwork takes too long." With your marketing efforts, it will go a long way if you optimize your in-person experience, keeping in mind that consumers are already very frustrated and agitated by inventory and pricing and try to lessen their waiting and process as much as possible.
Original Source: https://read.nxtbook.com/digital_dealer/dealer_magazine/jan_feb_2022/navigating_the_road_ahead_202.html