ChatGPT has come out of nowhere to become one of the hottest new topics and tools of the year. For example, looking at Google Search interest over time, searches for ChatGPT were 0 before December 2022 (which makes sense since it only launched in November 2022 – just a few short months ago).
Artificial Intelligence (AI) tools like ChatGPT have become one of today's most game-changing – and debated – technologies. Reactions from marketers to AI tools have been lukewarm thus far and all over the map in terms of the reaction. Typical responses have ranged from fear of AI taking over their job (and the world!) to asserting AI can't help them in any way.
The truth – at least for today, lies somewhere in the middle. ChatGPT (Pre-trained Transformer), is an AI-driven chatbot launched by OpenAI in November 2022. Elon Musk has also been extensively involved with OpenAI since the companies founding in 2015 and was part of the team that created the initial OpenAI Charter. However, he resigned from the board in 2018 (after voicing some concerns about potential issues that this publicly- available AI can cause).
ChatGPT, in its current release, is a powerful tool that can help create content, generate ideas, and draft documents – all automatically on the fly. While there are some concerns that it will ultimately make manual SEO content creation obsolete, for the time being – the manual component of content creation will still reign as king. There are tools that can identify what content was AI-generated, and I would be shocked if Google doesn't utilize its own internal AI (don't forget, the purchased DeepMind back in 2014!) to identify and devalue machine-generated content. My gut feeling is that within the next few quarters, Google will start not only devaluating AI-based content but also identifying it in the search results as such.
So where does it leave marketers? How can they use ChatGPT and any other upcoming AI-based tools to their advantage? At the very least, I encourage everyone to access the tool and play around with it. Spending just 10 minutes on it will give you great insights and ideas of what it can accomplish.
For those ready to dive in and start using it for their SEO strategy – here are some great ways to use it. First, of course, you'll need to go to ChatGPT and ask it the below questions, for example:
"Generate a list of blog post ideas for a car dealership"
ChatGPT will spit out 10 ideas for blog posts that you can then evaluate and decide which makes sense to write about.
Another great idea is to ask ChatGPT what pages and content you should have on your site. For example:
What types of pages should a car dealership website have?
There are also plenty of applications for ChatGPT outside of SEO. For example, social media– where unique human-written content isn't as important– could really benefit from this AI. For example, try:
Write a 100+ words worth of Facebook Ad Copy for a car dealership in the New York City area. Include a call to action.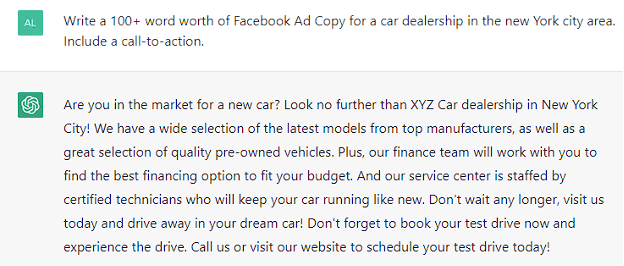 Or perhaps
Write five funny tweets about working at a car dealership
ChatGPT can also be a great tool to help you with writing emails or even responding to client reviews, for example:
Write a response to a user who left this review on our car dealership google listing: "My third time getting a car from Prestige Lexus of Ramsey and Steve Glenwick is my man. All three times, he gave the respect and trust that is truly hard to find at a car dealership, especially these days. No pressure to buy."
As you can see, the sky is the limit with ChatGPT and the various AI tools that will follow. But remember, always review what it generates, have a concrete strategy, and apply the human touch! Happy learning!
P.S.: This article was written manually and, aside from the screenshots and examples, was not generated by ChatGPT (I feel like we'll soon start seeing this kind of disclaimer more and more often).
Original Source: https://read.nxtbook.com/digital_dealer/dealer_magazine/march_april_2023/how_to_leverage_chatgpt_for_y.html